Honored Members of the Sacramento Ong Ko Met Association
There is an old Chinese proverb that says "When an elder leaves us, a whole library disappears." It is true that the stories from our Ong Ko Met elders have not been preserved as well as we would like. The wisdom these stories held have been lost forever. So, we seek to preserve the history of the Ong Ko Met by collecting our member's stories. This will help future generations better understand our Chinese heritage including the struggles and contributions of our fathers and mothers. Ong Ko Met members are humbly requested to fill out our Ong Ko Met Family History Questionnaire. The questionnaire maybe submitted by email to info@ongkomet.com or mailed to Ong Ko Met Association History Project, 427 Chinatown Mall, Sacramento, CA 95814.
---
Lincoln Ong

Passed away peacefully on April 18, 2007. Lincoln Ong's parents, Hong Ong (Luie Lung) and Lang Shee immigrated from Yen Hing Lee, Hoi Ping, China. Lincoln's father is descended from Dong Choon Yon who had seven sons; the oldest son, Yep Yen was Lincoln's grandfather. Many Ongs left the village to find new lives in California. Thus, Lincoln has many close relatives in Sacramento, where he was born on November 13, 1925.

Before Sacramento, Lincoln's family lived in Akron, Ohio, where they had a laundry business. Later they moved to Ithaca, New York. In 1940, Lincoln's father passed away when Lincoln was 15 years old. The family then traveled by train to settle in Sacramento. The children all worked hard. Lincoln prepared salads, banana cream pies, etc. at his cousin Frank Fat's 806 Restaurant. He picked pears during the summer in the Delta region. His mother found seasonal work at the local canneries.



In the early 1950's, encouraged by his mother to keep his Chinese heritage and culture, Lincoln joined the Sacramento Ong Ko Met Association. Lincoln participated in the October 10, 1953 dedication of OKM building at 318 I Street.

A graduate of Sacramento City College, Lincoln attended Chouinard Art Institute in Los Angeles. Lincoln loved to dance and party, and at UC Berkeley, met his future wife, Lily Foon. Lincoln and Lily married in 1954 and together raised four children - Pamela (Les Kong); Gary; Susan (Ken Savage); and Gordon (Cindy Nicklos) - 3 grandchildren - Matt Kong, Tenley and Arianna Ong.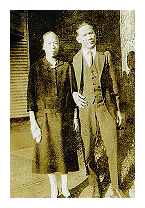 A land planner, Lincoln worked for several Sacramento engineering firms, planning subdivisions in the city and around the State. Lincoln was an active member of Sacramento OKM, serving as vice-president from 1987 - 1990. In 1988, Lincoln also helped organize a Committee to build a Memorial Hall in Yen-Hing Lee ancestral village near Guangdong, China.

In 1980, Lincoln was diagnosed with Guillaume-Barre Syndrome. Through year's of therapy, he overcame the ailment and resumed his active lifestyle, tending his fruit tree orchard, helping at the Sunday farmers' market, keeping busy to his last days. Lincoln served as the OKM English Secretary for many years, conscientiously executed the duties of that office until his passing at 81 years old on April 18, 2007. Friends and family miss his friendly face and contagious enthusiasm for life.
---
Huey Ong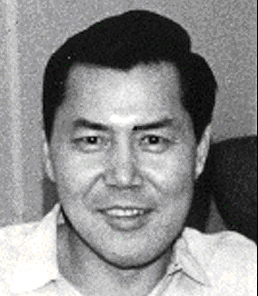 Passed away peacefully on July 17, 2009. Born on November 7, 1921 in Canton China, he lived in Arizona and California. He was a decorated World War II Army veteran (Bronze Star and Purple Heart) who was injured during the Battle of the Bulge as a member of Gen. Patton's Third Army.
He retired from the Board of Equalization, State of California after 32 years as an Auditor. Survived by brother Tip Ong, sister Rose Ho, sister-in-law Anna Ong, three generations of nieces and nephews, and other family and friends, who will all miss him dearly.
Preceded in death by wife Dortha, brothers George and William, sister-in-laws Frances and Amy, and brother-in-law William Ho. Services were held on Friday July 24, 2009 at 2:00 pm in the chapel at East Lawn Memorial Park, 4300 Folsom Blvd.
---
Szeto Choi Kim a.k.a. Woo Shi (Leong)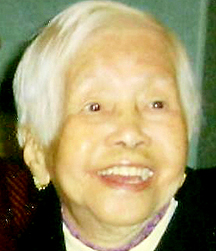 Szeto passed away on passed away on March 21, 2009 at the age of 103. Szeto Choi Kim was born in HoiPing, Guangdong, China in 1906. When she was 19 years old (considered an "old maid"), a matchmaker introduced her to a man from the Philippines looking for a wife. Szeto Choi Kiem met and married her husband, Dong Sai Kiet – on their wedding day.
In 1936, Dong Sai Kiet moved his family to the Philippines. Choi Kiem immigrated to the Philippines as Dong Sai Kiet's wife. Sai Kiet had previously immigrated to the Philippines as a "paper son" of a person named Leong. Hence her name became Woo Shi.
Life in the Philippines (Isabela, Basilan City) was much better than China. Choi Kiem had many children - one after the other – and had maids to help her. Sai Kiet kept busy managing various businesses, including a restaurant, a hotel, a bakery, and grocery store.

On November 29, 1952, her husband died of a heart attack, leaving her with 12 children, the youngest (Emma) was just 7 months. Her oldest son, Thomas, had just finished college in Manila and planned to further his studies abroad.
Choi Kiem showed her resilience and determination in keeping the family together. She tirelessly supported her eldest son, Thomas, with managing a restaurant in Manila. Choi Kiem's woke up at 4:00 a.m. everyday, rain or shine, to go to Divisoria (market), to buy the daily restaurant supplies.
Life was not easy, with 11 children going to college, high school, and elementary school. Rents and tuitions were always late, but everyone continued their education. Choi Kiem never complained. She toiled unselfishly to support her family and give them hope for a better life.
In some ways, the hard life in Manila gave the older family members the drive to seek their fortune elsewhere. It was not easy for the family to find work in Manila because no one was a citizen of the Philippines, except for Thomas. One by one the children left the Philippines to go abroad.

By 1971, Rosita, first child to receive her USA citizenship, sponsored Choi Kiem so she could immigrate to the United States. Choi Kiem in turn, successfully sponsored the rest of her children in the Philippines to come to the United States.
In 1972, Choi Kiem came to Sacramento where she met many of her compatriots from China. She was very active at the Ong Ko Met Association where she met many friends and enjoyed socializing and playing mah jong.
---
Bing Ong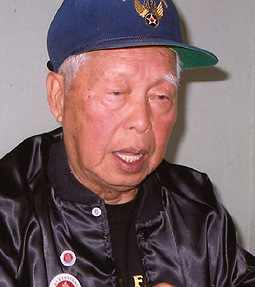 Bing Ong passed away in July of 2008 at age 84, after spending much of his life preserving his culture. Bing Ong was born in the Cantonese village of Woo Lung in 1924, later moving with his family to Yuba City in 1933. Upon arriving, he attended the Chinese School in Marysville's Chinatown, later attending public school in a special class for Chinese and Japanese immigrants. He joined the U.S. Army Corps during World War II rather than finishing High School; he was finally awarded his diploma in 2002. In 1947 he went to China to claim his wife, Ellen Ong, in an arranged marriage that lasted 60 years.
His family had owned several businesses in Marysville's Chinese district. They had operated the King's Inn during the 1920s and 1930s at Second and C Streets before taking over another historic building, which dated to the 1870s. Ong ran the Lotus Inn Restaurant for 29 years building it into one of the region's most loved restaurants. In 1976, the city of Marysville decided to exercise eminent domain and raze most of the historic buildings in Marysville's Chinese neighborhoods. They called it urban re-development, but Bing called it simply, "demolition." Friends of the Bok Kai Temple President, Billie Single, said the city referred to it as a progressive move, however, she went on to say that she felt Bing never forgot or forgave the City of Marysville for destroying his business.

Bing did not want the Bok Kai Temple to perish, as had his business. Ong served as the official "gong master" for the temple and for its internationally acclaimed, Bok Kai Festival held each spring. He also was granted a special license by the Fire Marshall to create the large firecrackers that are ignited on the second day of the Bok Kai Festival.

Bing Ong cared deeply about preserving not only buildings, but also, Chinese culture. He was an executive member of the Suey Sing Society, one of the two major tongs, or mutual aid societies, in Marysville. He was also on the Board of Directors of the Marysville Chinese Community, Inc, The Friends of Marysville Bok Kai Temple, and on the Sister City Council where he helped oversee ties to Peikang, Taiwan.
---
Lim Ong
Lim passed away on November 11, 2006 at the age of 75. Lim Ong was born in 1930 in Hoi Ping, China. He first began attending the Ong Association's activities immediately when he came to this city and country in 1951. He has been part of the organization ever since. Over the decades he always helped prepare the food for the meetings and parties of the Association and has seen and been part of the evolution of the organization for as long as any member. At the time of his passing he had the office of Chinese Secretary for the association.
---
Joe Wong

Joe Wong has been longtime member of the Sacramento Ong Ko Met but now has relocated to Mesa, Arizona. Mr. Wong was born in Hu Long, Kaiping, Kwungtung, China on December 12, 1927. His father was Frank Hong and his mother was Moon Yee. In Joe Wong's family were also two daughters, Betty and Fong. He is a devoted and loving husband to his wife Amy and father to Willie, Wilky, David, and his two daughters, Bolin and Yulona.
Joe immigrated to America in 1941. He attended Franklin Elementary and later Mesa High School. As a young man Joe served in the US Navy between 1945 through 1946. After his military service, Joe worked for the city of Sacramento, retiring in 1990.
Here is part of Joe Wong's story from a written interview:
Tell us about your village. Why did you leave?
In 1939, the Japanese invaded China. They occupied Kwungtung and were getting closer to my village. So I went to the Portuguese territory of Macau to continue school. Two years later, in 1941, my dad said you had better come to the United States where it was safer. It was getting too dangerous to live under Japanese occupation. So in the summer of 1941 (June/July), I took a ship named President Coolidge to the United States. It was the last ship to the United States because the Japanese sank the ship, President Coolidge, on its way back. Pearl Harbor was December 7, 1941.
Tell us something interesting about your ancestors.
My Grandfather was very knowledgeable in the Chinese language and culture and was sent to San Francisco to be the President of the Hop Wo Benevolent Association. He brought with him 4 aides.
What traditions and stories have been handed down in your family?
The traditions of honoring and respecting your elders, the stories of coming to America for a better life, too many to list.
What do you remember most about coming to America?
How difficult it is to leave your family / friends and the small village you are from in China and come to the United States as a young teen. The United States was a country far away with a different language and traditions.
How did you become introduced to the Ong Ko Met in Sacramento?
By my cousin Charlie.
How is the world today different from what it was like when you were a child?
The world is more complicated now as an adult than living a simple life as a young child. You worried about different things in life. There were no modern conveniences such as flushing toilets, hot running water, air conditioning, refrigerators or televisions, etc. All the conveniences we now take for granted.
What life wisdom / advice would you share with future generations or Ong Ko Met members?
Work hard. Love and cherish your parents, respect and honor family and family values, and learn and continue family traditions.
---
Jeanne C. Dong

Jeanne C. Dong of Sacramento, California passed away at the age of 85 on Sunday, November 3, 2013, as she was surrounded by her loving family. Born as Fong Chun Ngen on February 4, 1928 in Gim Wah Li Village, Toishan, China, Jeanne married Paul C. Dong, a US Army veteran, on December 26, 1947. She would later work at the State Board of Equalization and retired in 1987. Jeanne was a devoted wife, mother, and grandmother. She is survived by her husband of 66 years, Paul, and three sons: Harvey (Beatrice), Alvin (Elaine), and Michael (Anna); and daughter Julia (Eugene); 11 grandchildren: Kevin (Gloria), Henry, Nina, Daniel, Joyce, Christopher, Suzanne, Justin, Grant, Matthew and Joseph; and two great-grandchildren Nathan and Allison. Jeanne is also survived by her brothers James, Warren, Edward and sisters Pauline and Ruby. Jeanne is preceded in death by her parents Lee Wah Chung, Chin Shee Lee and brother Calvin.
Always strong, loving, and full of life, Jeanne will be remembered for her contagious smile, her quick wit and warm heart. Friends and family were invited to attend the viewing on Friday, November 15, 2013 from 4:00pm to 8:00pm at Andrew and Greilich Mortuary. The funeral took place on Saturday, November 16, 2013, starting at 2:00pm at East Lawn Memorial Park, 4300 Folsom Bvld., Sacramento.
---
Joseph Chew Tang

Joseph Chew Tang passed away peacefully in his sleep on May 30, 2014 at the age of 91. He is survived by Katherine, his beloved wife of over 60 years and brother Jack (Jeanne). He is also survived by his son Alan, daughter Patty (Jimmy), and grand-children Mitchell and Natalie. He was known to his family, friends, and business associates as Joe. Family and friends knew Joe as an independent, sociable, outspoken, and competitive man.
Joe was born on May 21, 1923 to Fred and Wong Shee Tang in the Chinese farming village of Yun Hing Lai. His early life was spent in China in Yun Hing Lai and Guangchou. Since his father returned to America and he was separated from his mother so that he could be with his grandmother, Joe did not have much of a childhood family life. Joe came to America in 1938 and lived briefly in San Francisco with his father. In 1940, he moved to Sacramento to be near others who came from Yun Hing Lai. It was here that he formed his close lifelong friendships with Kai Fat and Frank Louie. He attended Lincoln Junior High School and Sacramento High School. As a teen, Joe worked and lived on his own which further developed his independent and self-reliant character.
Joe served in the U. S. Army near the end of the Second World War, He was stationed in Kunming, China in a liaison unit between the U.S. Army and the Nationalist Chinese army. Because of his service, he became a life member of the VFW. After the war, Joe returned to Sacramento and obtained his Associate of Arts degree in business at Sacramento City College. He also attended Golden Gate Business School and obtained his real estate and insurance licenses.
Joe met Katherine Quan through mutual friends and dated for over a year. They married on August 20, 1950. After a brief time in Oakland they moved and settled in Sacramento and remained married for over sixty years. They raised two children Alan and Patty. In later years, they travelled to China and other asian countries several times including visits to his childhood village. Joe started a food brokerage business with a partner in 1958. In the early 1960s, he successfully moved out on his own and was an independent sales representative for various companies to the growing Chinese owned supermarkets in the Sacramento region. His sales territory gradually expanded into general supermarket chains and into the Bay Area and the Central Valley. He was also active with the Ong Ko Met Association. Joe retired in 1991.
Joe's passion outside of work was golf. Joe began playing golf in 1959 and enjoyed it for the following sixty years. He belong to the Sacramento Chinese Golf Club to which he served as president in 1985. He also belonged to the Sacramento Senior Chinese Golf Club and the Dry Creek Golf Club. His most memorable golf moment was getting a hole-in-one in a major business tournament at Dry Creek's fifth hole in front of more than 70 people.
A memorial service was held at the East Lawn Memorial Park Chapel, 4300 Folsom Boulevard, Sacramento, CA. 95819 on 11:00 am, Tuesday, June 10, 2014. In lieu of flowers, donations were made to ACC Senior Services.
---
Waltman Ong

Waltman Ong passed away on Tuesday, February 11th, 2014. Waltman was born in Hoi Ping, Canton, China on October 29, 1932 and immigrated to the United States in 1949 with his mother Pauline and his brother Kanman to join his father Stanley, who was already working in America.

During his teenage years, Waltman worked alongside his family at their grocery store, the Stockton Boulevard Market. He would go there immediately after school and work until evening, helping in many areas of the business, including making deliveries to customers in the store's truck. >He graduated from Sacramento High School with the Class of 1953 and then served in the US Army assigned to an artillery unit from 1953-1956. While in the military, he made several friends with whom he continued to correspond after being discharged and returning home to Sacramento.

He later worked at the Food City supermarket on Franklin Blvd until joining his brother Kanman at a new family grocery business, the Airway Market on Freeport Blvd. He specialized in produce and managed the meat department. He enjoyed talking and joking with customers. After work, he was a regular at the New Lu Shan restaurant on J St., becoming good friends with the staff and staying to help clean up at closing time.



In his younger days, Waltman enjoyed driving, taking road trips and cruising around town. He owned two Porsches: a silver then a red one, but his love of outdoorsman sports: fishing and hunting eventually won out and he sold the sports car and switched to trucks so he could tow his bass boat. He loved bass fishing from a boat, often saying, "Fishing from the shore is for lazy people." He would spend every day-off exploring the creeks of the region with his numerous fishing buddies. Afterwards, he would drive around to family and friend's homes to drop-off fish after a good day's catch.

During one of these trips, Walt was dropping off fish to a relative in San Francisco when he happened to meet a lady who was visiting the same relative. The next week, he showed up there again with more fish, probably hoping to see the lady again. He did see her that day and they continued seeing each other and Mei Shem became his wife in 1991. After his retirement, Walt and Mei split their time between Sacramento and San Francisco to take care of Mei's parents. He also continued to enjoy fishing whenever he got the chance.

Waltman was predeceased by his parents Stanley and Pauline Dong and brother Kanman. He is survived by his wife Mei, sister-in-law Gayle, niece Cyndy and nephew Collin.

A memorial service was held at the Sacramento Memorial Lawn, 6100 Stockton Boulevard, Sacramento, CA. 95824 on Friday, February 21, 2014 at 1:00 pm.
---
Betty Kow Ten Ong

On May 31, 2013, Betty Kow Ten Ong passed away at the age of 81 in Sacramento, California surrounded by her loving family. Betty was a loving wife, mother, grandmother, relative and friend to all. Betty was born on July 7, 1932 in Toisan, southern Guangdong province, China to parents Bing and Suey Lee. She married her husband, Wai Ock, on November 25, 1953 and for 60 years remained the rock of the family.



Survived by her husband, Wai Ock Ong; daughters, May Linn Lee (Barry), Pauline Ong-Granis (Richard), Carol Ong; and son Arnold Ong. Loving Paw Paw to her three grandchildren, Michelle Lee, Adrienne Lee, and Bryant Lee; sister to Katie Lee and Young Lee; and has many other family members.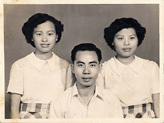 Betty was happiest being a wife and mother who in the mid 1950s helped with the family income working seasonally at Del Monte and Bercut-Richards canneries. She also enjoyed occasional trips to Thunder Valley and family dinners. Betty will always be remembered for her unyielding devotion to her family and her talkative nature. Her laughter and smile could light up the room.

Service was held on Friday, June 7, 2013, at 11am, at Harry A. Nauman & Son, 4041 Freeport Blvd, Sacramento, CA 95822 with interment following the service. The family gave special thanks to the UC Davis Medical Center staff who took care of her during the very difficult time, particularly the CTICU staff.